Hometown visit highlights evolving view of Du Bois' legacy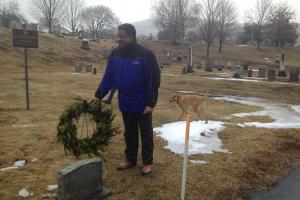 A homecoming put a personal touch on the region's African-American history, when the great-grandson of scholar and civil rights pioneer W.E.B. Du Bois made his first-ever visit to his predecessor's hometown, where the community's relationship with its famous son is still evolving.
Great Barrington, Massachusetts was good to W.E.B. Du Bois: he was born and raised in town, and recalled the place fondly in later years. Tellingly, when his son later died in infancy, Du Bois sent the body from Atlanta, where he then lived, back up to the Berkshires to be interred in the family plot at Great Barrington's Mahaiwe Cemetery.
On a chilly, damp afternoon, Du Bois'  direct descendent Arthur MacFarlane II visited Great Barrington for the first time, laying a wreath at the grave of his great-grandmother.
Randy Weinstein, a rare books dealer in town who founded a center devoted to civil rights history, leads MacFarlane on a tour.
Du Bois wrote that he was born by a golden river, between the shadows of two hills. Walking in the footsteps of his great-grandfather, MacFarlane says, put that history in new light.
"We viewed the birthplace and the home site and we went down to the river walk, and so I've seen the Housatonic and I had the chance to see the hill that he was talking about when he talks about being in the shadow of a hill. To see some of the places that he's lived around the Great Barrington area. It's one thing to say, 'Oh, here's grandpa's description of it,' and 'Here's what my eyes tell me.'"
A founder of the NAACP, Du Bois'  bona fides as an architect of the modern civil rights movement are numerous. But his hostility to capitalism complicated his legacy in the Cold War era, when he was investigated by the House Committee on Un-American Activities and had his passport seized.
It's ostensibly his later years that have dampened efforts in this predominantly white community to put Du Bois'  name in bold print, says Weinstein. After an impassioned public debate in 2004, a movement to name a new elementary school after Du Bois failed.
"Seven years ago, when you saw Du Bois'  name in a headline you cringed. The most controversial name going. Now when you see Dubois all over the place. 'Oh, it's him again.' He's been accepted into the mainstream of Berkshire fabric. And that's real exciting to me."
Before a packed house at the First Congregational Church, which once raised funds to send a teenaged Du Bois to Fisk College, MacFarlane did not shy from his great-grandfather's full legacy, showing slides of Du Bois meeting with Nikita Khrushchev and Mao Tse Tung. But in the long history of a multifaceted career, they came off as historical curiosities rather than a source of controversy.
Frances Jones-Sneed, a professor at Massachusetts College of Liberal Arts and an expert on the region's African American history, says the Cold War mindset is finally giving way here to a fuller appreciation of Du Bois' legacy.
"As people got to know exactly who Du Bois was and how much he loved this place, that things would kind of change."
August will mark the fiftieth anniversary of Du Bois' death in the nation of Ghana, where he is buried.